---
Bionic Backup: Making Backups Absolutely Easy!
Bionic Backup enables you to define different backup profiles. You give a name to each profile, specify the location of the backup file to create/update, and create a list of files to include in the individual backup set. Then, when you select one or more profiles, Bionic Backup creates a ZIP file containing all the files for the profile in the location you have specified. You can create one or more backup files each time you make backups.
Click this link to discover some of the functions of the program.
Bionic Backup is in a "beta" release. Currently there is no help available. The program has been tested and is very solid and bug-free, but I will not release it as shareware until I have completed the help system.
You are welcome to download the beta version of Bionic Backup. Please remember that it is still a beta version without a help system. If you have comments, suggestions, recommendations, questions or complaints please .
Download the beta version of Bionic Backup.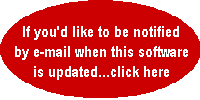 For support for this, or any of my software programs,
contact the .