---
******************************************
** Version 1.04 now available...download below **
******************************************
Outlook Backup enables you to backup all information stored by Microsoft Outlook. This includes all .PST file (which contain all the mail messages, address book entries, etc), signature files, templates, and the registry information containing you user options and mail accounts.
Outlook Backup is designed to work with Outlook 98 and Outlook 2000 on Windows 95/98 and Windows NT. Outlook Backup will not work with Outlook Express (future versions might) and has not been tested on Windows ME nor on Windows 2000.
Although there is no help system available yet, each screen of the program describes the actions you must take to use Outlook Backup.
Download the Outlook Backup setup file (OBSetup.exe) and execute it to install Outlook Backup. The setup file will copy OutlookBackup.exe to the directory you select (normally c:\Program Files\BC Universal\) and the files Zipdll.dll and Unzip.dll to the c:\Windows\System\ directory. No changes will be made to your system registry or win.ini or system.ini files.
NOTE: When you run the setup file, only the "Typical" application will be functional. If you select "Compact" or "Custom" you will still install just the files mentioned above.
Download the beta version of Outlook Backup.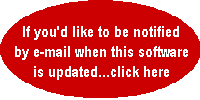 For support for this, or any of my software programs,
contact the .
You can download just the necessary "Application Extension" files (dll files) by clicking here. (Note: Most users will not need to download these files separately. These files are normally placed in the "windows\system" folder by the setup program. If they are not placed there by the setup program, you may download them and put them there yourself. If your computer doesn't have "windows\system" folder, just put them in the Outlook Backup folder instead.)