---
TwoDisks for Windows reads two different folders and compares them. It displays the results of the comparison in five different panes...those files only in "Folder 1", those files only in "Folder 2", those files that are in both folders that are NEWER in "Folder 1", NEWER in "Folder 2", and finally those that are identical in both folders.
Click this link to discover some of the functions of the program.
TwoDisks for Windows is in a "beta" release. Currently there is no help available. The program has been tested for over a year and is very solid and bug-free, but I will not release it as shareware until I have completed the help system.
You are welcome to download the beta version of TwoDisks for Windows. Please remember that it is still a beta version without a help system. If you have comments, suggestions, recommendations, questions or complaints please .
Download the beta version of TwoDisks.

If you don't have a utility to "unzip" a ZIP file
you can check out WinZip at this link....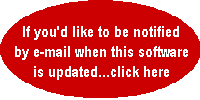 If you would like to be a beta tester for TwoDisks for Windows for a username/password combination which is needed to enter the beta-test site below.
After you have received your username/password combo, click here to download the beta-test version.
For support on this, or any of my software programs,
contact the .